I try my best to make patterns perfect for their release but every once in a while a details slips by. Revised or corrected patterns will always be available to re-download on this website, Craftsy or any other site where it was purchased. You can also look below to see what corrections have been made.
---
Rollie Pollie Organizer:
All corrections are to the metric measurements, if you use Imperial measurements there are no corrections:
1.  Medium size organizer only:
Pdf download: the correction is on page 7, step #17.
Paper version: the correction is on page 6 step 20.
–Refer to line #6 in the chart, the metric conversion for 10 3/4″ should be 27.3cm NOT 25.4 cm.
2. All sizes
Pdf download pattern: page 3
Paper pattern: page 1
— Under Fabric 3 in the cutting chart, measurements for the Handle should read:
small: 34.9 x 7.6cm  medium:  37.5 x 7.6cm large 39.4 x 7.6cm
— Under Foam Stabilizer in the cutting chart, measurement for the Handle Stabilizer should read:
small: 27.3 x 1.9cm  medium:  29.8 x 1.9cm large: 31.7 x 1.9cm
If you have the pdf version be sure the make these corrections to the corresponding cutting labels on pages 22 and 23.
---
"Play, Then Store Away" Playmat & Storage Tote:
Correction: On the Interfacing Cutting Chart the Exterior Interfacing dimensions should be:
Small:  1 @ 27 x 20" & 1 @ 27 x 4"
Large:  1 @ 27 x 20" & 1 @ 27 x 7"
---
Cozy Cakes Backpack & Pillow:
Step 22:  The next to the last sentence should read: Measure 9 1/8" (NOT 1/4″) toward center from one short end.

Older versions of the pattern will need the B-Interfacing pattern piece, which can be downloaded

here

.
---
The Ellory Bag: (corrected 11/2016)
Page 16 – There is a notation on the Lining Side Facing pattern piece that says "this pattern piece should measure 17×4". The notation should say 17 x 6″.  The pattern piece is the correct size – only the notation is incorrect.
---
The Petal Pockets Cosmetic Bag:  (corrected: 2/2017)
Page 1: Under "Cut the Pieces". The pieces for the Exterior & Interior should read:  4 @ 10 x 6 1/2″ NOT 4 @ 2 @ 10 x 6 1/2″
Page 4 (print) or 6 (digital) – Step 12: The step is correct, however, the graphic should look slightly different. The small petal on the right should look more like the below: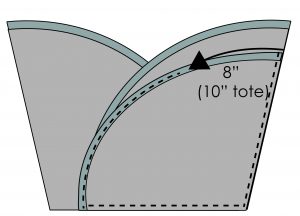 ---
One Trip Up Stair Basket (corrected 1/2018)

Correction #1: In the Suggested Cutting Layouts, the last sentence should read: "… if you are not making pockets, follow the layout but forgo pieces E & J (NOT L)."
Correction #2:  In the Cutting Labels, label A should read: 7 1/2 x 31 1/4″ (NOT 17)