This tutorial coincides with step 10 on page 4 of the Savannah Bag pattern.
Here is the method I like to use for  gather the fabric along the bottom edge of the exterior pockets.  This technique is quick, easy and rarely results in broken threads (like basting stitches sometime do!).  I have found it works best with light to medium weight fabrics but I have also used  it with light weight canvas and have been successful. The trick to using it on a heavier fabric is to sew slowly a to not put too much tension on the thread.
Here's what you do:
First dial your  tension to it's tightest setting (sorry, the photo below shows mine on a medium setting).

Then set your stitch length to it's longest setting.

Start with a test piece from the fabric you are going to gather.  Place your fabric under the presser foot where you want the gathering to start.  Backstitch at the beginning of the seam then start stitching.  As you stitch, the fabric may start to ruffle up, if not, you need a little more tension on the upper thread.  So, hold the upper thread between the spool and where it feeds into the machine.  You don't want to hold too tight or your thread will break. Allow the thread to run through your fingers as you sew; just provide a little extra resistance.  When you are done sewing, give yourself a long thread tails and remove from the machine.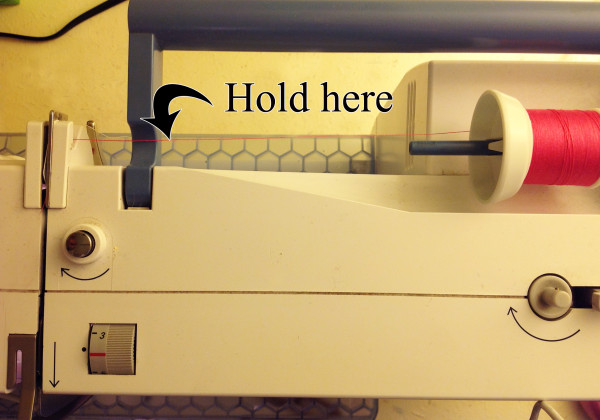 Distribute the ruffle to the length you need – in our case, 16″.  Put a pin at the end with the loose thread tails and figure 8 the thread tails around it so the don't come out or shift.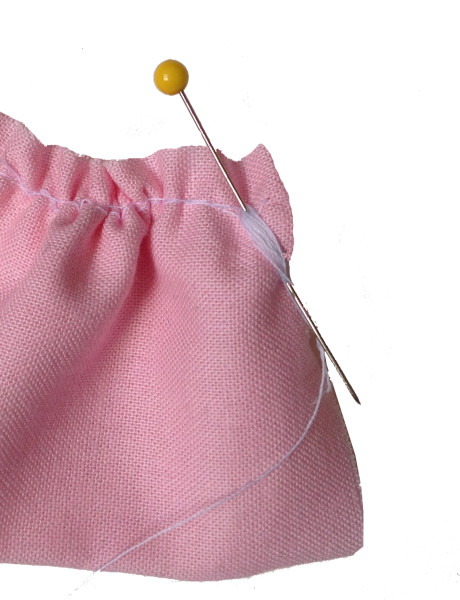 That's it!  Pretty quick!   Oh, and don't forget to readjust your stitch length and tension settings!!
Sarah