This tutorial coincides with step 4 on page 3 of the Savannah Bag pattern.
I designed the Savannah Bag pattern  to be directional print friendly.  A directional print  (or one-way print) means that there is a clear direction to the fabric's design. For example, this flower fabric has a clear direction; the flowers should be facing up (well, it could look good with flowers facing down…)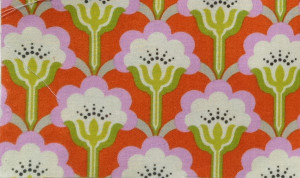 Ok, here's another example of a directional print:
There are a couple of of points in the pattern where we  need to be careful that the design doesn't end up upside down.  The handles are one of them.   If we just cut the  floral fabric, for example,  in one long strip for the handle, the design would be right side up on one side of the body. But, as the handle comes over the shoulder, the flowers would be upside down – not good!  To solve this, we  cut each handle in two pieces (so, 4 piece @ 2×14″)  and then sew them together; orienting the design so that it will end up being right side up on both sides of the shoulder.
So, before you interface  them, bring 2 handle pieces together with right sides facing.  Make sure that the direction of the design on both panels are going the same direction.  Then sew the short ends that have the top of the print.   This way, the top of the design will be at the center.  Click the photo for a closer look.

The direction of the print won't bother us again until we do the lining for the interior pocket, but we'll deal with that when we get there!  Happy sewing!
Sarah