This tutorial coincides with steps 38 & 39 on page 9 of the Savannah Bag pattern.
At this point, you have squared the corners on both the exterior and lining portions of the bag and have turned it right side out.  Now we can recess the zipper.  Remember the 1 1/2″ score line you made in the first couple steps?  Now is the time to do something with it!
Find the score line in the interfacing by pushing the top edge of the bag  in to the inside, you should be able to feel stabilizer give along the line that you scored.  Fold it in all the way down around the top of the bag.  The important thing here is to not let any of the lining fold up under the stabilizer, it needs "hang" completely under the stabilizer.
To secure that fold, pull the elasticized pockets well out of the way and pin.  Then stitch around the bag; skipping over the handles and getting as close to the side seams as you can with your machine.  You can also edge stitch all the way around the bag at the fold as well.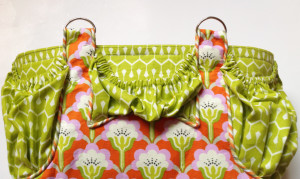 On to the handle – almost there!!!