Hello and Welcome!  I am so glad you are here for the kick off of the Convertible Reversible Bag tour!
Over the next 5 days, 14 lovely and talented ladies who made this design will share their creations and experiences with us.  I know you will enjoy visiting their blogs and looking at all their incredible work!  To add to the fun, each day we have a new prize package to give away and you can find  a coupon codes for 25% off the pattern good through August 2nd on each blogger's post!
I know you won't want to miss a single day of the beautiful bags and prizes!  You can subscribe to my blog through Bloglovin' or you  have email notifications sent to you by signing up on through the widgets at the upper right-hand side of this post.

Here she is!  The Convertible/Reversible Bag!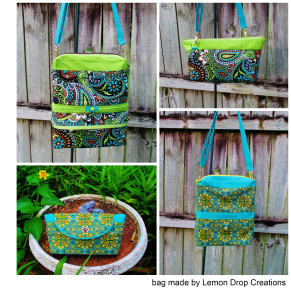 This unassuming little bag hides a secret… she can convert and reverse into 4 different bags in 2 completely separate colorways and styles!  The pattern includes instructions for laminated cottons as well as regular fabric.  Don't you think it would make a great gift?  And, seek it's perfect for travel, 4 bags in 1 means more room in your luggage for shoes!   It's the wackiest design I've come up with yet and I just love it -I hope you do too!
Each day of the tour will offer a new opportunity for you to enter and win fun prizes! 
How to enter:  visit one (or all!) of the bloggers for that day and look for the giveaway widget.  Don't worry if you miss a day, all the giveaways will be open on each blog through August 3rd.   The lucky winners will be announced here, the Cozy Nest Facebook page, and notified through email on August 4th.
Here's today's prize package!
A Sidewinder Bobbin Winder from Simplicity.  (Have one, love it!)
and 2 pdf patterns:  the adorable Coachella Shorts Pattern from Striped Swallow Designs and a Savannah Bag pattern from me!  Good luck!
Here's a sneak peak of Tuesday's Giveaway!
I'll tell you exactly what they are tomorrow!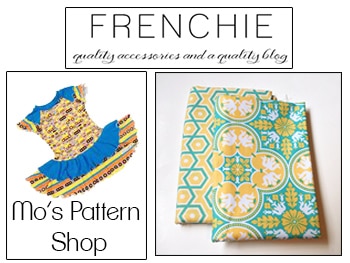 To kick off our tour we have three fabulous ladies!  Please click over to each of their blogs and check out  their unique spin on the bag, and to get inspiration from all their other creations!    You can scroll down to see the line-up for the rest of the week!
Maria of  Mia's Creations
Niki Stringer from Roonie Ranching
 Alyssa at  Keep Calm and Carrion
 
Our first stop is to visit Maria at Mia's Creations.  Maria is a bag maker and quilter. She is a pattern tester for several independent bag designers and just recently tested a quilt pattern.  Maria sent me this photo of her amazing bag.  Aren't you wondering what her other 3 bags look like?  Visit her and find out, she is a lovely person who I've had a great time getting to know.
Next, say hello to Niki Stringer of  Roonie Ranching.  Niki sews in Michigan when she can steal a few moments to herself from raising her two kids.  She taught herself to sew on a machine she picked up on sale to combat boredom during her third year of law school.  After about a decade of neglect, the machine was revived so Niki could tackle some great sewing tutorials she found on Pinterest, which is how she really learned how to sew.  Two machines later, she now tackles sewing projects ranging from dresses for her six-year-old-daughter to quilted table runners, but her true love is bags of all shapes and sizes.  She and her twin sister, Erin, created Roonie Ranching to document their creative ventures in an effort to avoid clogging up each other's email inboxes with endless photos of their newest creations.  Niki is awesome and is the person who inspired me to do this blog tour – thanks, Niki!
And finally today, pop in on Alyssa Carrion at Keep Calm and Carrion,  a 31 year old mother of 2 who lives in Port Angeles, WA.  Alyssa used to be an Army officer, but now spends her time raising Inara (5) and Connor (2), while doing lots of sewing and pattern testing.  While most of her sewing time is spent making things for her littles, she loves the chance to sew tops and bags for herself as well.  Alyssa is a really cool person and a great sewist, I know you will have fun checking out her work!
Tuesday, July 29th
Lynn Potts of  Potts Crafty
Marilyn Brandt with Shades of Bold  
 Wednesday, July 30th
Vicky Myers of  Vicky Myers Creations, 
Liz Schaffner from MOMENTS
Sarah Gido of Cozy Nest Design 
Thursday, July 31st 
   Amy Macdonald from Friends Stitched Together
Kathy from of Handmade Dress Haven
Judith Clauss of Judith Stitches and More 
Friday, August 1st
Jonie Brooks from Knot Sew Normal
Lorena Rey of my way of… 
Bethany Rapp over at Sweet Bee Buzzings
See you tomorrow!