I'm excited to announce the kick off of my first blog tour starting Monday, July 28th!  For five days,  14 of my blogger friend will be sharing their versions of the bag and writing about their adventures in making it!
Here she is!  The Convertible/Reversible Bag!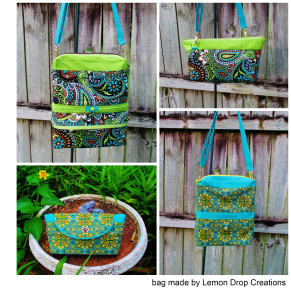 This unassuming little bag hides a secret… she can convert and reverse into 4 different bags in 2 completely separate colorways and styles!  The pattern includes instructions for laminated cottons as well as regular fabric.  Don't you think it would make a great gift?  And it's perfect for travel, 4 bags in 1 means more room in your luggage for shoes!   It's the wackiest design I've come up with yet and I just love it -I hope you do too!
Each day of the tour will offer a new opportunity for you to enter and win some fun giveaways!  Don't worry if you miss a day, all the giveaways will be remain open on the participant's blogs through August 3rd.  The lucky winners will be announced August 4th on my blog, the Cozy Nest Facebook page and notified through email. 
Here's a sneak peek for what's up for grabs on Monday! 
A big  "thank you" to sponsors:   Striped Swallow Designs, Muffin Head Patterns, Mo's Bowtique, Serger Pepper, Frenchie. & ShannonMac Designs
 Monday, July 28th 
Maria of Mia's Creations
Niki Stringer of Roonie Ranching 
Alyssa Carrion at Keep Calm & Carrion
Tuesday, July 29th
Lynn Potts of PottsCrafty
Marilyn Brandt at Shades of Bold
 Wednesday, July 30th
Vicky Myers of  Vicky Myers Creations,
Liz Schaffner at  MOMENTS
Sarah at Cozy Nest Design
Thursday, July 31st
Amy Macdonald with Friends Stitched Together
Kathy from Handmade Dress Haven
Judith Clauss of Judith Stitches and More
Friday, August 1st
Jonie Brooks  with Knot Sew Normal
Lorena Rey of  my way of… 
Bethany Rapp with Sweet Bee Buzzings
Don't miss a day!  On the right-hand side of this post you can subscribe to this blog through Bloglovin' or get email notifications of new posts.
See you Monday for Day 1!