On with the tour!  I have had a great time looking at everyone's masterpieces and I hope you have as well!
I wanted to remind you that there are coupon codes for 25% off the pattern on the each blogger's sites.  If you decide to purchase one, look for my logo on their blog – it means they are an affiliate and will get a little of the money (fabric money perhaps?)- they deserve it so please click my logo on their blog and purchase the pattern through them!
Today we are going to meet:
Liz Schaffner of  MOMENTS
Vicky Myers at Vicky Myers Creations, tadalafil  
  Sarah Gido of Cozy Nest Design – that's me!
First up today is Liz at Moments.  What can I tell you about Liz?…she loves the color red, loves sewing,  and loves to chatter.  Liz says she has bad feet and can't buy Christian Louboutin shoes, so she sews bags instead …a girl has to collect one or the other!  Her mission is to make as many pretty bags as she can.  Liz sent me this teaser photo of her creation – doesn't it make you want to see the rest?  Pop over to her blog and she will share her creating Moments with you.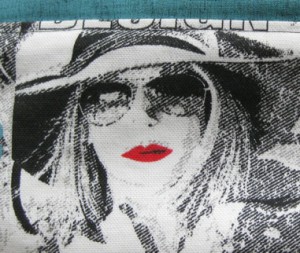 Next up is, Vicky Myer who blogs at vickymyerscreations. She started blogging a couple of years ago to promote her Etsy shop – how times have changed! Blogging gives her creativity a great focus.
In theory, Vicky sew bags, but is very easily distracted and sews a huge variety of items, often with a recycling theme. She love to see what she can transform an item into.  She'd be chuffed it you checked out her version of the Convertible/Reversible Bag.  She says it's the most complex bag she's ever sewn but I'm sure you'll agree is did a great job! !
And last, it me, Sarah from Cozy Nest Design.  I know I am not an official blogger on the tour (I'm sure you can tell that I'm not really a blogger (or a photographer at all!) but I wanted to show you how nicely this bag can look made from laminated cotton fabric.  The pattern gives instructions to use laminated and I love it – especially for bags I plan to travel with (a spilled chocolate milk episode on a 13 hour flight lead to this preference!). I know a lot of people shy away from using it but it really isn't as persnickety as you would think.
  So, here's one I made out of mostly laminate. The solid fabric on the bag is regular fabric – just because it matched so perfectly and that NEVER happens to me!
 I wanted to point out the options you have with the flap on this bag.  I know you have seen in the other photos that it is in a downward position but you can also have it snap upward.  You just need to add another closure while you are constructing the bag.  Unfortunately this was an afterthought and not in the pattern, but I will be adding an online tutorial of how and where in the process to add this additional closure.
The pattern also comes with an online tutorial showing how to make the little covered buttons that cover magnetic snaps so when they are exposed you can add a little flair!
  Here's the bag folded up in the evening clutch position…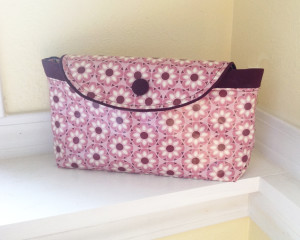 On the reverse side of the bag I did all laminate in Riley Blake's Verona fabric.  I just love this!  Here is the cross-body configuration…
And here it is folded up.  I would love to say that I opted not to put handle tabs on this bag but the truth of the matter is, I just plain forgot (how many of these have I made??). Anyway, I thought it would make a perfectly fine cosmetic bag while I travel to wherever I am going and then I can wear it as the cross-body. Maybe someday I will go back and add the handle tabs – nahh, never going to happen!
Here's what's up for grabs today!
A Sidewinder Bobbin Winder
A Purse hardware bundle – lots of good stuff there!
Winner's Choice of a pdf pattern from Serger Pepper!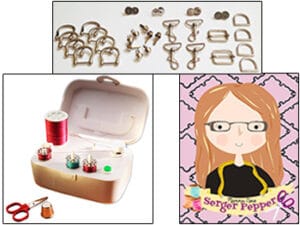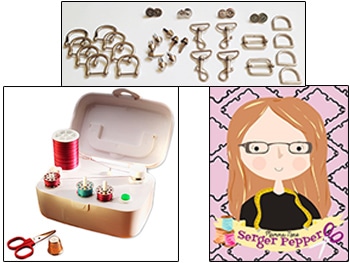 To enter: visit one (or all!) of the bloggers featured today and look for the giveaway widget.  Don't worry if you miss a day – all the giveaways will be open on each blog through August 3rd.   The lucky winners will be announced August 4th on here, the Cozy Nest Facebook page, and the winners will be notified through email. 
Here's a sneak peak of Thursday's Giveaway!
I'll tell you all about it is tomorrow!

In case you missed it, this is the bag we are touring the blog-o-sphere to see!
The Convertible/Reversible Bag!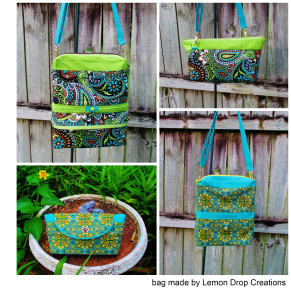 This unassuming little bag hides a secret… she can convert and reverse into 4 different bags in 2 completely separate colorways and styles!  The pattern includes instructions for laminated cottons as well as regular fabric.  Don't you think it would make a great gift?  And, it's perfect for travel, 4 bags in 1 means more room in your luggage for shoes!   It's the wackiest design I've come up with yet and I just love it -I hope you do too!
Monday, July 28th
Maria of  Mia's Creations
Niki Stringer from Roonie Ranching
 Alyssa at  Keep Calm and Carrion
Tuesday, July 29th
Lynn Potts PottsCrafty 
Marilyn Brandt  Shades of Bold  
 Wednesday, July 30th
Liz Schaffner, MOMENTS
Vicky Myers, Vicky Myers Creations,  
 Sarah Gido Cozy Nest Design
Thursday, July 31st 
Amy Macdonald, Friends Stitched Together
Kathy Hennessey from Handmade Dress Haven
Judith Clauss, Judith Stitches and More 
Friday, August 1st
Jonie Brooks Knot Sew Normal
Lorena Rey my way of… 
Bethany Rapp, Sweet Bee Buzzings
 I know you won't want to miss a single day of the beautiful bags and prizes!  You can subscribe to my blog through Bloglovin' or you  have email notifications sent to you by signing up on through the widgets at the upper right-hand side of this post.
See you tomorrow!