Here we are on Day 4!  Thank you for all the kind comments and for visiting these amazing blogger's!
I wanted to remind you that there are coupon codes for 25% off the pattern on the each blogger's site.  If you decide to purchase one, look for my logo on their blog – it means they are an affiliate and will get a little of the money (fabric money perhaps?) –  they deserve it, so please click my logo on their blog and purchase the pattern through them!
Today's stops are:
 Amy Macdonald of Friends Stitched Together
Judith Clauss of  Judith Stitches and More 
Kathy Hennessey from Handmade Dress Haven

Say hello to Amy Macdonald!  Amy blogs with her best friend over at FriendsStitchedTogether. They recently started a sewing series called CraftingCon, which is a monthly sewing contest based on all things geeky and nerdy! She sews mainly for her two boys, although sometimes she sneaks in something girly for her nieces. Her version of the of the Convertible/Reversible Bag features embroidery and painted flowers. Awesome!
Next we have Judith Clauss of  Judith Stitches and More.  Judith writes her blog to share sewing projects, ideas, tips and more. She has been sewing for more than 40 years and has over the last few years has become a passionate bag-maker. In addition to sewing bags, she enjoys doing machine embroidery. She primarily sews gifts for friends and family and loves to test-sew bags for designers. She recently tested two different bags for me and is an awesome lady with wicked sewing skills!
Last up for today is Kathy Hennessey of Handmade Dress Haven.  Kathy loves sewing for her children and they appreciate her work! She finds great satisfaction in creating things from fabric and enjoys spending time with the lovely colors and prints. She chooses fabrics that bring her pleasure and considers sewing an extension of her love for flowers, gardening and all things with color.  Kathy really went the extra mile to make this bag and I can't wait to see it! Thanks, Kathy!
Here's what's up for grabs today!
2 yards (1 cut each) of Erin McMorrison fabric from the "Astrid" collection
Winner's choice of pdf pattern from Shannon Mac Designs
Morgan Top and Pants/Shorts Sizes NB-18M pdf pattern from Muffin Head patterns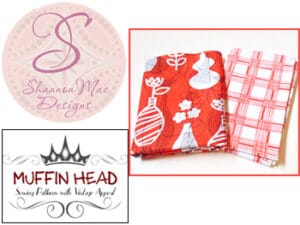 To enter: visit one (or all!) of the bloggers featured today and look for the giveaway widget.  Don't worry if you miss a day – all the giveaways will be open on each blog through August 3rd.   The lucky winners will be announced August 4th on here, the Cozy Nest Facebook page, and the winners will be notified through email. 
Here's a sneak peak of Friday's Giveaway!
I'll tell you all about it is tomorrow!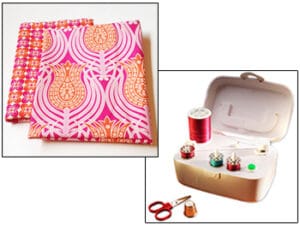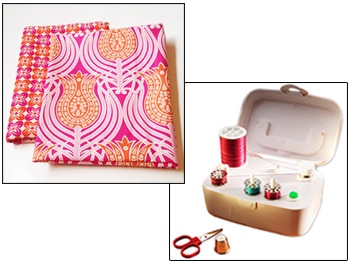 Here's a review of the giveaway packages from earlier this week.
You can still get in on these by going to the featured blogs for each day!
Wednesday: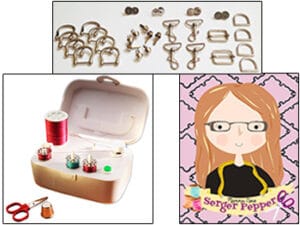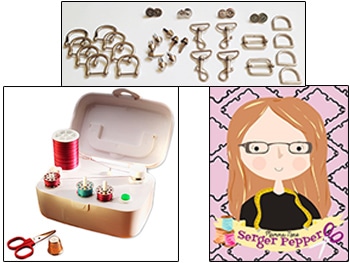 Tuesday: 
Monday:

In case you missed it, this is the bag we are touring the blog-o-sphere to see!
The Convertible/Reversible Bag!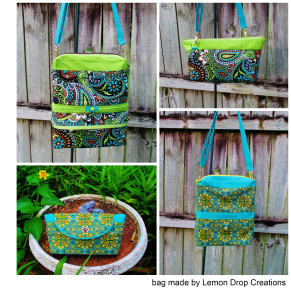 This unassuming little bag hides a secret… she can convert and reverse into 4 different bags in 2 completely separate colorways and styles!  The pattern includes instructions for laminated cottons as well as regular fabric.  Don't you think it would make a great gift?  And, it's perfect for travel, 4 bags in 1 means more room in your luggage for shoes!   It's the wackiest design I've come up with yet and I just love it -I hope you do too!
Monday, July 28th
Maria of  Mia's Creations
Niki Stringer from Roonie Ranching
 Alyssa at  Keep Calm and Carrion
Tuesday, July 29th
Lynn Potts PottsCrafty 
Marilyn Brandt  Shades of Bold  
 Wednesday, July 30th
Liz Schaffner, MOMENTS
Vicky Myers, Vicky Myers Creations,  
 Sarah Gido Cozy Nest Design
Thursday, July 31st 
Amy Macdonald, Friends Stitched Together
Kathy Hennessey from Handmade Dress Haven
Judith Clauss, Judith Stitches and More 
Friday, August 1st
Jonie Brooks Knot Sew Normal
Lorena Rey my way of… 
Bethany Rapp, Sweet Bee Buzzings
 I know you won't want to miss a single day of the beautiful bags and prizes!  You can subscribe to my blog through Bloglovin' or you  have email notifications sent to you by signing up on through the widgets in the upper right-hand side of this post.
See you tomorrow!