In case you missed my tutorial on Craftsnob for the Petals Cosmetic bag, here it is again!
If you haven't visited Craftsnob, don't wait another minute (well, download this pattern first, then go)!!  Sara has a ton of wonderful tutorials and tips for just about every project imaginable!
Gather:
·         40 1/2″ prepared double fold bias tape (for instructions on how to make own bias tape,

go here

)
·         Basic sewing supplies
Cut:
·         4  @ 10×6 1/2″  from main fabric (2 for exterior and 2 for lining)
·         2 from accent fabric using pattern piece
·         2 from accent fabric using pattern piece – reversed (flip pattern over and trace)
·         2  @ 10×6 1/2″ from medium-weight interfacing
Interface exterior fabric panels following manufacturer's instructions
Use 1/4″ for seam allowance
This cosmetic bag is the little sister to my Petal Purse & Tote Bag pattern.  I like this deign because it has so much storage, which is a must if you have children who treat you like the family pack mule (why can't they carry their own stuff???).  The outside has 2 zippered pockets and 4 slip pockets and it's even reversible!  So many design options!
This is a photo of all 3 bags that come in the pattern: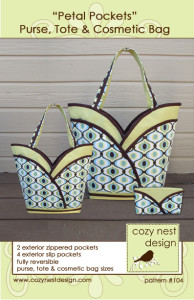 You can find  this pattern here.