Description
The CARbage Bag Litter Bag Kit has all the seat belt you need to make this handy car accessory.
Click supply list to enlarge: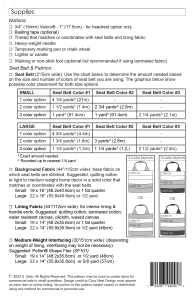 © 2023 S. Gido. All Rights Reserved. This pattern may be used to create items for commercial sale in small quantities. Design credit to Cozy Nest Design must appear prominently on each item or online listing. No portion of this pattern may be distributed by any method for commercial or personal use.