Hello!
I am really excited to announce that I have (finally) added tassel kits to my shop!  I think the addition of a tassel bring the whole look of the Market Tote to a whole other level and they are fun and easy to make.
The tassel idea came from my amazing pattern tester, Nancy Spaulding. She mentioned that she wanted to purchase a tassel for her test bag. It got us thinking that maybe, just maybe tassels could be made from seat belt webbing,  and – Yes!  it works beautifully!
So, after some trial, error, and hardware hunting, they are here in three styles: the fold over, the bell cap and the sleek drop.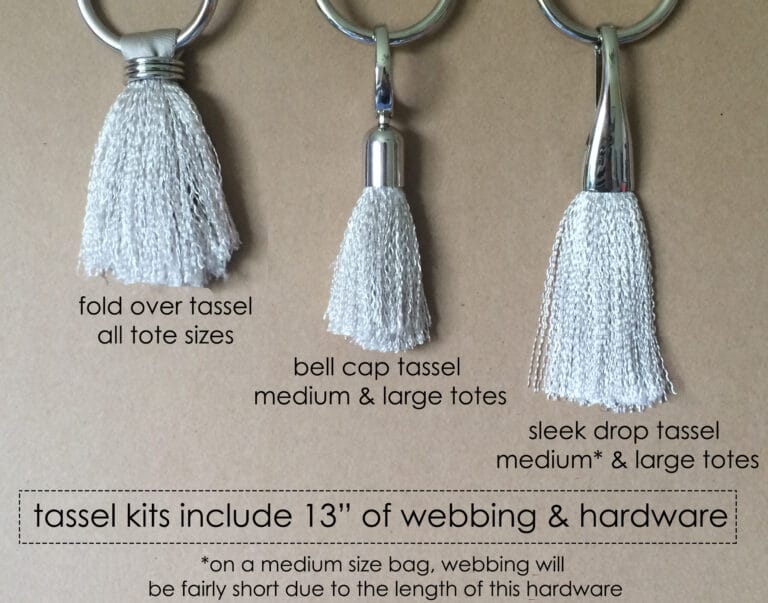 The tassels kits can be ordered right along with your Market Tote Kit (you will see the option pop up as you order), or they can be ordered individually here.
Choosing the Right Tassel Style
The tassel style you choose depends on the size Market Tote you are making.
For a small size tote, stick to the fold over tassel because adding either of the hardware types will make the tassel far too long.
For a medium tote, I recommend either the fold over or the bell cap.  You can use the sleek drop tassel, just keep in mind that the amount webbing will have to be pretty short because the hardware itself is so long (see red bag below).
Large totes can accommodate any of the tassel styles.
Whichever style you choose, I have no doubt it will add that extra special touch to your tote. I can't wait to see what you make!
Here are the tutorials for each tassel style:

Fold Over Tassel
Bell Cap Tassel 
Sleek Drop Tassel