Hello!  I am so happy you are here. Whether you are sewing along with me as I post these tutorials,  or have stumbled across them after the fact,  I hope you feel free to post comments and questions. I am here to help!
This pattern, The One-Trip-Up Stair Basket, is easily my favorite project because it makes my life easier and I just wouldn't want to live without it! It's unsafe to place things on our stairs that need to up or down because they are a trip hazard, not to mention unsightly. This basket is the perfect place to set things until you get around to taking them where they belong. 
Today's installment is about the supplies and fabrics you will need for your basket.  Below there is information on how to find the plastic canvas sheets you need and an item to add to your shopping list that isn't in the pattern. The actual sew-along posts will start on July 14th – that will give you some time to gather everything you need!
If you haven't yet, you can get the One-Trip-Up Sewing Pattern here. 
I would also encourage you to get some design ideas by checking out the stair basket gallery.
Supplies:  
One of the items you need for this project is the plastic canvas. It is used to create the internal frame of the basket.  Here's what we are hunting: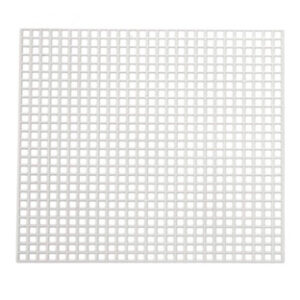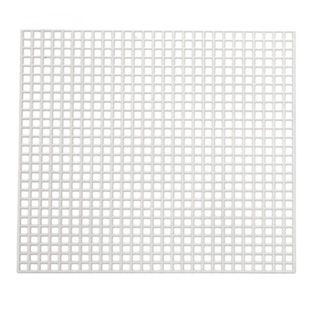 Specifically it is Darice's Ultra Stiff Plastic Canvas Sheets – 7 Mesh 22-1/2 x 13-5/8″ . Make sure it is the Ultra Stiff!  I find them locally at Hobby Lobby and they have them on Hobby Lobby online as well.  They are more expensive online (why, i don't know),  plus you have to pay the shipping. The frame is the last part of the pattern so there is plenty of time to track some down.
UPDATE 4/24/20:  Hobby Lobby is currently sold out. Here are a few other places online that I was able to locate this product:
Amazon: this is a handy pack of 6. This is also an affiliate link so I will get a few cents with no cost to you if you go this route. 
Michaels
Schaefer Hobby Shop
Art Cove Crafts
Consumer Crafts
The pattern calls for 3-5 sheets and I would suggest going with 5 – it makes the basket all but indestructible. If you only have 3 – that is ok. The one I have in my house only has 3 and it has been with us for about 5 years!
Another supply you should consider getting are these:
These are 1/8″ cable ties. It doesn't matter how long they are but they do need to be the tiny 1/8″ wide ones.  I found that using these to build the plastic canvas frame instead of the yarn called for in the pattern,  makes the frame even stronger and more stable.  They are cheap and can be found at home improvement stores, Walmart or on Amazon (affiliate link).
---
Fabric:  For me choosing fabric can  take as long as making the project!
You can use just about any fabric but you should avoid something incredibly thick if you plan on adding the pockets.  I have used all sorts – from regular ole' quilt weight cotton to outdoor fabric –  to stuff was so industrial, I don't know if it was technically even fabric (never again!).  My favorite is a medium weight home dec fabric.  I get a lot of them here: from Fabric.com and Bestfabricstore.com
To get some design ideas – check out the stair basket  stair basket  gallery.
---
Change:  
If you find your fabric before the sew along officially starts and want to cut your fabric, I have a different way of doing the handle than I put in the pattern. I think I prefer the new way and will show it in the tutorial.  If you want to try it with me, cut your handle pieces at 2 1/2″ wide instead of the 2″ that it instructs in the pattern. If you have already cut your handles to 2″, don't worry, I'll walk you through those instructions too.
Well, I think that's it for now!  The sew-along posts will start on July 14th !  Let me know what questions you have! 
Until next time,
Sarah