Welcome to day 6! Is everyone still with me? Today we will finish the frame of the basket and get ready to put it all together!
The next step is to attach M and O together along their short ends. These are the pieces that make up the whole bottom and back side of the basket.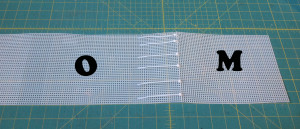 And then we are going to attach that M/O panel to the rest of our basket.  The short end of the M panel will be attached to the bottom edge of the front panel (N).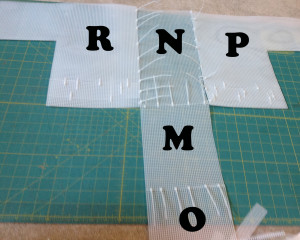 As you have probably noticed, what we are doing is the same thing we did when we sewed the exterior and lining  fabric pieces together.  The long piece wraps around the edges of our Side Panels(R & P). So we are going to align the side edges of piece M with the very bottom edges of the Side Panels.  Again,  we want to put our last cable ties 3 holes in from each end (see red circles below).
Once you have it done on both sides,  it will look like this: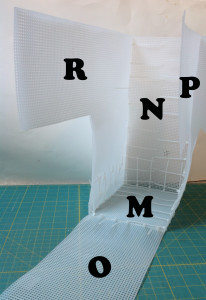 Now, we are going to bring the O piece up to align with the inside edge of the Side Panel cut-out.  We are going to cable tie (or sew both sides).  If you are using cable ties, be sure to put your last one 3 holes down from the very corner of the cut out.  (this photo shows the basket laying on it's front panel – N).
This is the point where we need to bend the canvas so it can be attached to the vertical edge of the cut out.  Since I put my last cable tie 3 holes from the corner, I count 3 holes up the O piece and fold along that line.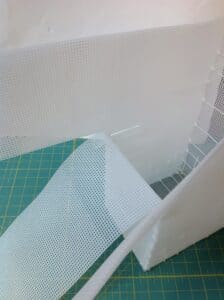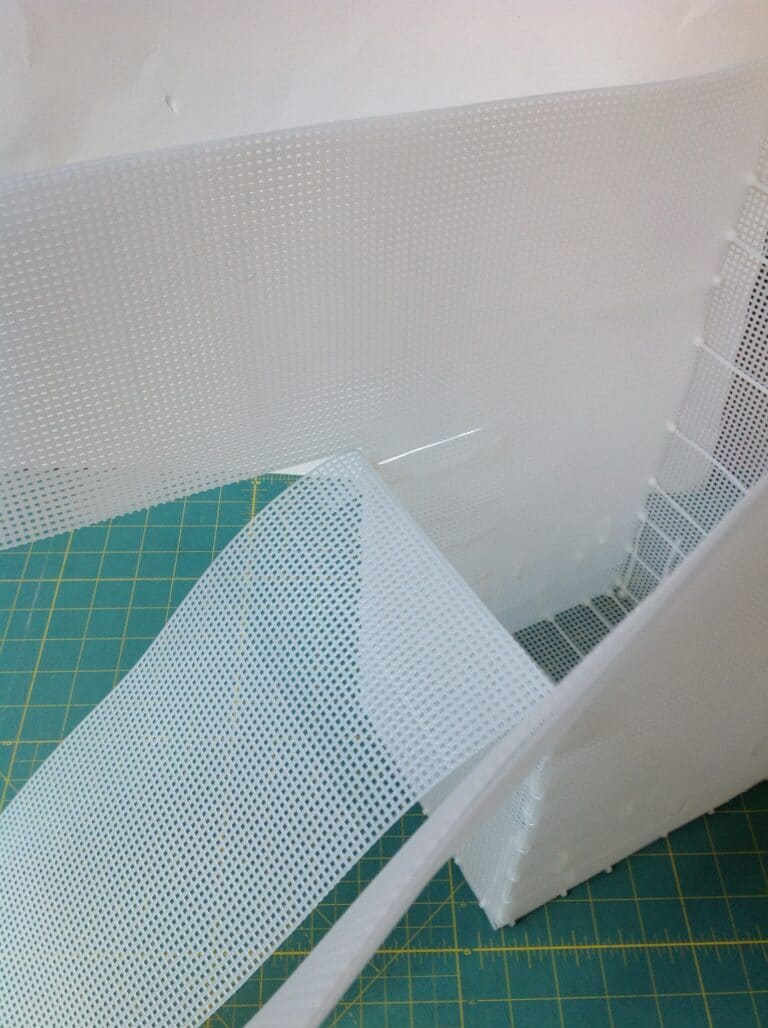 Attach the rest of the O panel to the remaining edges of the basket in the same way and you will have this: Awesome, huh?
Next time, we are going to put our exterior and lining pieces on the basket and finish it up! Here is the link to Day 7. 
See you there! Sarah