Inspiration is a strange thing.  It comes seemingly out of nowhere and never seems to be present when you try to make it happen – it just happens.  Like last month when I decided to redecorate my kitchen  and took off to the paint store. Now,  I've seen paint chips a thousand times, in fact, I have painted some rooms in my house so many times, I am starting to lose square footage!  But that day, looking at all those pretty  paint chips, I was inspired  and I came home and designed this:  The Spectrum Tote…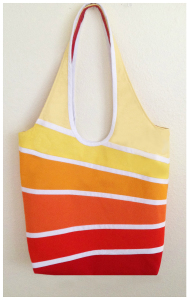 My idea was to use color gradients or one color evolving into another color and I loved it – and when my wonderful testers got ahold of it, I loved it even more.  The test bags opened my eyes to the full "spectrum" of looks this one pattern can achieve.
Go here to check out all their awesome bags! 
I love this tote because it can create so many different looks and  has a ton of space.  Inside, there is a zippered pocket and two little rounded slip pockets.  The other great thing is that all the main exterior fabrics can be cut from 1/4 yard cuts or fat quarters so it's relatively stash friendly.  The tote can be sewn up fairly quickly and can be quilted.  Instructions are included for adding different types of interfacings for changing the amount of structure the tote has.  You will also find a number of online tutorials linked within the pattern and a bonus project.
I hope you find the Spectrum Tote inspiring! I can't wait to see what you stitch up!
The good news: this pattern is done.  The bad news: my kitchen still goes unpainted!